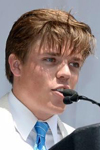 John R. Seydel
Trustee Elect, Turner Foundation, is a rising senior studying political science and business at the University of Denver in Colorado. As the eldest of Ted Turner's grandchildren, he is also the oldest of the trustee elects on the Turner Foundation. He intends to follow a path of developing renewable energy projects while receiving his MBA. John R. has a passion for politics and has interned for the Governor of Colorado, John Hickenlooper and is actively working on Senator Udall's re-election campaign in Colorado as well. John R. participates in baseball at DU, Divest University of Denver, and is a member of Kappa Sigma to which his grandfather also belongs. In 2010 he graduated with an International Baccalaureate degree from Upper Canada College in Toronto, Canada.
AREDAY SUMMIT | ACELI | STARTUP GREEN | RENEW | IMPACT FILM
Startup Green
---
Startup Green, a partnership with the National Renewable Energy Laboratory (NREL), is a business incubation, innovation and accelerator platform for clean energy startups. It is designed as a 2 day workshop, in which attendees will work with a series of mentors, develop business plans, overcome market barriers and identify an implementation strategy for successful business in clean technology. They will convene in a sanctioned hotel or meeting space and assemble in a plenary periodically for presentations and lectures throughout the event.
What is Startup Green?
The intensive experience will provide entrepreneurs and aspiring entrepreneurs the opportunity to share ideas, collaborate, expand skill-sets, identify market barriers, and develop and polish business plans with help from industry mentors.
What sets Startup Green apart from other accelerator/incubators?
This unique experience of a world class Summit, alongside a business development program, provides participants with direct access to successful cleantech pioneers and investors. Mentors in the finance, policy, business, engineering and NGO sectors will assist with business plan development, networking and foresight into the cleantech marketplace.
Location
Startup Green is being strategically located in the state of Colorado, one of the leading states for renewable energy and clean technology and with a major hub, The Denver International Airport. Additionally, Colorado is the home of the National Renewable Energy Laboratory (NREL), The Colorado Collaboratory; a partnership between the State of Colorado, The Colorado School of Mines, The University of Colorado, Colorado State University and NREL. Colorado is also the first state in the union to have a voter mandated Renewable Portfolio Standard (RPS).
Startup Green is purposely placed in the Aspen/Snowmass area, as this is one of the epicenters for successful entrepreneurs, businessmen, corporate titans, and captains of industry with an easily accessible airport and surrounded by 500,000 acres of wilderness. To bring the global movers and shakers together once a year for four days to network, meet and discuss business opportunities in advancing the low carbon economy, is of paramount importance.
Sign-up and submit an idea. Participants pay registration fee and submit an idea to be screened by AREI/NREL.
Collaborate with participants and mentors. Participants are logged into our virtual collaboration portal to pitch and discuss their ideas to other program attendees.
Join a team and develop roles. Idea leaders have the opportunity to pitch and recruit addition team members with the assistance from AREI/NREL.
Convene in Aspen/Snowmass for the two day incubator/accelerator. Face to face networking events, on-site team workspace, and access to leading cleantech pioneers.
Build a business and expand your network. Teams will be invited to present to hundreds of attendees, potential investors and leading companies at the AREDAY Summit on August 12th! Click here to view the AREDAY 2016 Summit Speakers
Contact Us: startupgreen@areinstitute.net