AREI Presents the 13th Annual AREDAY Summit
IMPACT FILM – June 19, 2016
AREDAY Summit – June 20-24, 2016

AREI presents the 13th Annual AREDAY Summit

"From Paris to the Polls: Implementing Low Carbon Economies"
IMPACT FILM – June 19, 2016 • AREDAY Summit – June 20-24, 2016
---
Join world leaders at AREDAY2016
The Annual Summit brings together over 100 cross-sector speakers and includes a film festival, concert and environmental expo. Join us this year!
Called the "Davos of Clean and Renewable Energy," the purpose of the dynamic five day annual AREDAY Summit, a program of the American Renewable Energy Institute (AREI), is to provide a platform for high level cross-sector networking that results in investments, collaborations, strategic alliances and new initiatives.
LOCATION: Viceroy Snowmass (Book Today! Discounted room rates until May 29th.)
130 Wood Rd, Snowmass Village, CO 81615
Full passes include entry to receptions, concert, expo and Impact Film.
Passes available for students and locals, non-profit and small business.

AREDAY Summit 2016 Featured Speakers
The AREDAY Summit convenes thought leaders and experts from multiple sectors to foster climate change solutions at the speed and scale necessary to phase out fossil fuels, and usher in a rapid transition to a new, clean energy economy.
---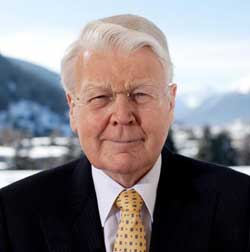 Ólafur Ragnar Grímsson
The President of Iceland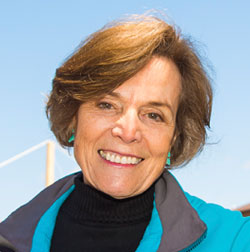 Dr. Sylvia Earle
Mission Blue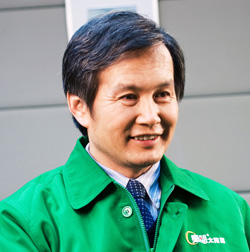 Huang Ming
Himin Solar Co, Inc.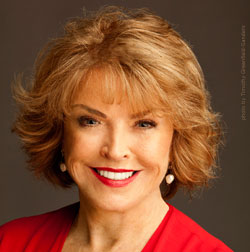 Pat Mitchell
Sundance Institute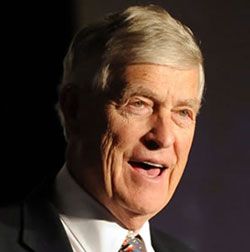 Timothy E. Wirth
United Nations Foundation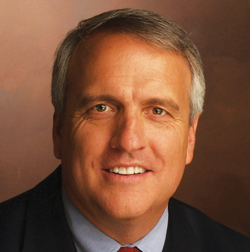 Bill Ritter
Center for the New Energy Economy, CSU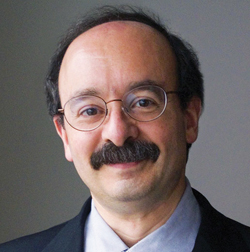 Amory Lovins
Rocky Mountain Institute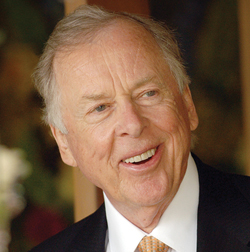 T. Boone Pickens
BP Capital
Entertainment

Sunday, June 19th • 10am-10pm
Base Village Conference Center, Snowmass Village
IMPACT FILM is a solutions oriented film festival, featuring documentary and environmental focused films. The event will kickoff the 2016 AREDAY Summit, with a full day of the most impactful environmental and thought provoking films of the year. IMPACT FILM, visually educates the audience while raising awareness, providing specific action recommendations and a road map towards solutions. The event is open to the public and free to AREDAY Summit pass holders.
---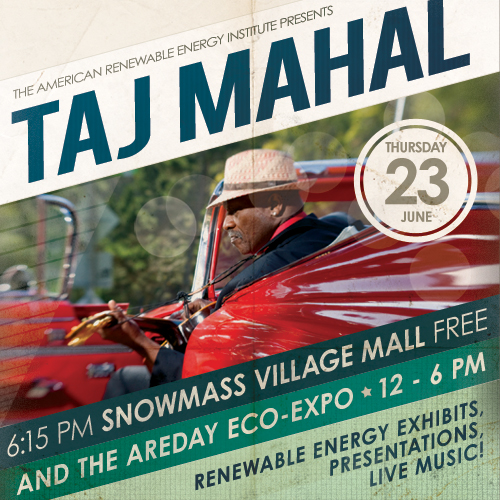 Celebrating decades of recording and touring that have nearly singlehandedly reshaped the definition and scope of the blues via the infusion of exotic sounds from the Caribbean, Africa and South Pacific, the two-time Grammy winning singer, songwriter, film composer, guitarist and multi-instrumentalist Taj Mahal brings his talent to the mountains.
Snowmass is the place to be for FREE music. Snowmass Village and JAS have joined together since 1994 to give you a summer full of free concerts that everyone is sure to enjoy! The concerts are held at the end of the Snowmass Village Mall on Snowmass Mountain. Bring a blanket or lawn chair to sit in. Music starts at 6:15 p.m. and ends at 8:30 p.m.
The AREDAY Eco-Expo will showcase leaders in the renewable energy and energy efficiency sector at the 2016 AREDAY Summit in Aspen/Snowmass Village. These cutting edge local, regional and national businesses and organizations will be featured on the Snowmass Mall from noon to 6pm.

June 21-22, 2016
Startup Green, a two-day accelerator platform for cleantech entrepreneurs, providing professional mentorship, access to investors, and the potential to present at the 2016 AREDAY Summit.
Startup Green, now in its second year, is an essential program of the American Renewable Energy Institute initiated to strategically utilize our 900+ alumni network to foster relationships and build bridges needed to grow the low carbon economy. Five to fifteen teams, will be carefully selected to convene in Aspen/Snowmass, June 21st and 22nd, for two full days of programming vital to kick starting a clean technology business. Selected companies will go through an intensive two-day accelerator where they will refine their business plan, have access to leading investors and mentors, and compete to speak in front of the 2016 AREDAY Summit audience.
Application Deadline:
June 1, 2016
Startup Green:
June 21-22, 2016
Startup Green:
$195
Startup Green + 1 day pass to AREDAY Summit:
$395
Apply Now!
---
AREDAY Videos

AREI programs showcase innovative solutions and visions developed by leading thinkers in clean technology, renewable energy and sustainability. AREI operates under the fundamental principles of five "E's"— Energy, Environment, Economy, Education and Employment.